Scenes from the Last Fairytale
From whence we came...
"We thought the eleprocon came with a soul that perhaps was as expressed by Teilhard de Chardin… in the Noosphere there was an exorbitant expectation that the human soul was going to be vested and be there as a sort of guiding light." - Erik Adigard 2016 reminiscing with Mark Smith
Erik Adigard and I met at the end of 1979 and immediately started co-creating and playing with the eleprocon epiphany. Erik was already making amazing collages that seemed to hint at what was coming through me. 
We were invited by Joe Leonardi to utilize the Long Beach Museum of Art Video Annex, one of the first of its kind. Joe created a unique facility for the emerging art form and video artists of the time who were local or passing though southern California.
We created what we called, "electroart," as this was before computer graphics. 
With Erik's collages placed on the copy stand, the video camera above sent the analog signals to the mixing console. There we tuned the image to our visual liking on the big monitor which had a 35mm SLR camera pointed at it. We took the photos which were processed as slides and called them electroart. These images found their way into postcards published in Holland and projected onto the sides of tall buildings in Germany.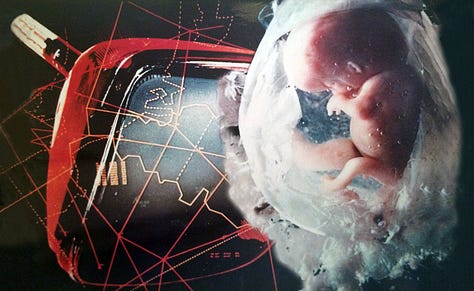 The sense of the eleprocon conspiracy was seeping in. We both carried these storyseeds forward in our lives. 
Erik went on to become one of the first visual artists to work with Adobe on the development of photoshop. From there he went on to the team starting Wired magazine and Hot Wired. His design firm with Patricia McSchane, M-A-D, pioneered new imagery and design approaches for their clients. 
His journey in life has also included participating in many international exhibits including Venice Biannual as well as teaching at California College of the Arts.
"Never loose faith in what the future can hold" - Erik's message to the California College of the Arts class of 2020
Erik was also featured in the 1995 documentary film CyberCity San Francisco.
---
The Eleprocon Chronicles
Eleprocon mythOS 2birds BEAMing noosphere
Thanks for jumping into Mark's Myth! Subscribe for free if you're curious.